Emergency boiler repairs and boiler installations in Kensington, London
Are you looking for boiler repairs specialists or Gas Safe engineers to install a new boiler in Kensington, Knightsbridge, or Belgravia? We are a team of highly-experienced, trained, and reliable engineers who can assist with all types of boiler issues, including boiler repairs, boiler maintenance, and new boiler installations.
Having worked in these areas extensively over recent years, we have a thorough understanding of the period homes' dated systems, the common factors that cause their poor functioning and breaking down, but most importantly the best possible system upgrade solution, giving our clients a cost capped investment.
We work with boilers of all makes and models, including the latest advanced combi and system boilers. We are Gas Safe registered, meaning all our services are safe and compliant. We are always up to date with the latest guidelines and regulations and are checked by our governing body annually, to ensure that we offer our customers the highest quality service at all times. We also offer a range of gas testing services, including Gas Safety Certificates, alongside gas installations and upgrades.
Our services also include all aspects of heating and plumbing, so as well as boiler services, we can offer a wide range of other home improvement services, such as bathroom installations.
Boiler broken down in Knightsbridge?
Our work includes:
Gas services
Heating solutions
Home refurbishments
Other trades, including electrics, carpentry, specialist mastic work, tiling, plastering, and more
Our plumbers and heating engineers can assist with all boiler issues. With over 30 years' in the trade, our expertise is second-to-none.
We understand that boiler breakdowns are very inconvenient, so if you have a boiler emergency, our team will be with you as quickly as we can, to diagnose and fix the problem. We offer the highest standards of customer care and efficiency. Check out our reviews on independent sites Checkatrade.
Do you have a boiler emergency? Call us now on 020 7222 1121.
Value-for-money SW7 boiler installations
We have been carrying out boiler installations in Kensington and Knightsbridge for many years. Boilers that are over ten years old are often wasting valuable energy. If your boiler has broken down, it is often more cost-effective to install a new boiler. You can save hundreds of pounds in the long run in energy bills, representing big savings over the lifetime of your new boiler.
We can install a new boiler for a fixed price, that will come with comprehensive guarantees for your peace of mind. We install combi boilers, system boilers, and regular or conventional boilers from all major brands. As Valliant Advanced Installers, we can offer you guarantees of up to ten years on some Valliant boilers. We will install the boiler that best meets your requirements and it will be fitted around your schedule.
We can take away your old boiler and cleanse your system with a chemical or power flush, so it runs more efficiently and effectively.
Our heating engineers are happy to attend your property to carry out a survey and provide you with a no-obligation quote for boiler installations.
Types of boilers and manufacturers
We can install, repair, or maintain boilers of all makes and models. We specialise in these brands:
Valliant: A German, family-run company, Valliant boasts excellent design and engineering. This brand is regarded as the pioneer of the combi boiler, one of the most popular options for reliable and energy-efficient heating solutions. We regard Vaillant as the best of the best when it comes to boilers, in a manufacturing context and as a solution for our clients. They're made to a very high quality, they work very well, easy-to-use for the end user and the engineer to install, and they offer a great service and aftercare service. On selected models, they offer warranties as long as 10 years.

Worcester Bosch: British brand Worcester currently holds the Royal Warrant to supply heating products to the Royal family and this is a brand that is consistently ranked highly when it comes to the best boilers.

Ideal: Another popular brand, Ideal has been offering UK homeowners heating solutions for over 100 years and remains committed to delivering reliable and energy-efficient solutions. A cheaper option compared to the market leaders, Ideal is the choice if on a tight budget.
Whatever type of boiler you want and need, we can install it for you. The most popular boiler types include:
Combi boilers: Combination boilers, or combi boilers, are very popular and provide unlimited heating and hot water without the need for a separate tank – the hot water is instantaneous. They do not take up much room so are also ideal for where space is limited. Combi boilers are perfect for smaller properties with no more than 2 bath/shower rooms.

System boilers: These boilers work on a closed, pressurised system, which means they work at a higher performance than open vent boilers on a gravity fed system and do not require a feed and expansion (F&E) tank. Most commonly, system boilers work in conjunction with a separate hot water cylinder and radiator circuit, and in larger homes multiple heating zones. System boilers are perfect for homes with multiple radiators and multiple bathrooms, along with underfloor heating. have a water cylinder, which commonly sits in the airing cupboard, and no separate tank. They are ideal if you need hot water from multiple taps at the same time.

Conventional boilers: Sometimes known today as open vent boilers or heat only boilers, conventional boilers work in a similar way to system boilers in terms of they heat your radiator circuit and hot water circuit separately, and need a hot water cylinder. However they are used on the old fashioned open vent, low pressure gravity fed heating and hot water systems, which have tanks in the loft. These boilers can still be used if you wish to upgrade your gravity fed system to a pressurised system, providing the correct safety regulations have been carried out and met. Perfect for homes which need water from lots of different places.
We can fix all boiler breakdowns near Knightsbridge
Have you got a boiler emergency in Knightsbridge, Kensington, or Belgravia? Warmer Spaces can help. Boilers always fail at inopportune times but our boiler repairs service is available around the clock to get your boiler back up and running.
We understand that it can be inconvenient and frustrating without proper heating and hot water. If you are wondering who can fix your boiler, we can. We work with every type of boiler including those from leading makes, such as Valliant, Ideal, and Worcester.
We carry a wide range of spare parts with us, so we can carry out boiler repairs as quickly and efficiently as possible, at reasonable prices.
Quick boiler diagnosis and safety checks
Highly-competitive boiler repair prices
Gas Safe engineers who provide an excellent service
24/7 service to get your boiler back up and running quickly
Boiler servicing and maintenance in Kensington
Annual boiler servicing in Kensington and Knightsbridge is a wise precaution and will ensure that your current system is operating to peak performance and is safe, ensuring there are no carbon monoxide leaks. Regular maintenance will also prevent system breakdown, which can prove expensive, so this is a cost-effective measure.
We can identify any corrosion or leaks and clean parts, if necessary. We can provide you with information and advice at any time.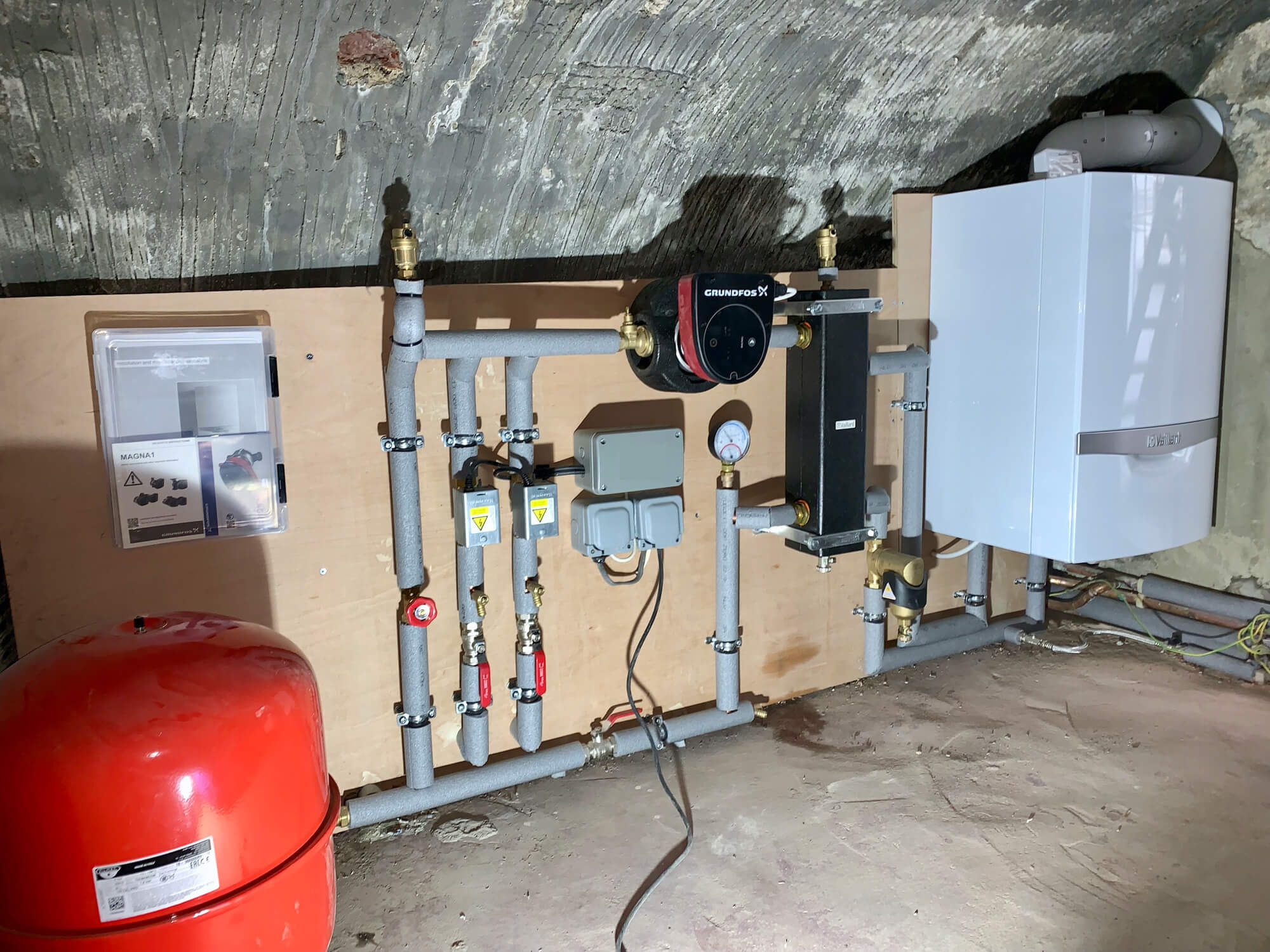 Get in touch with our Gas Safe engineers in Kensington for boiler repairs or boiler installation quotes
To find out more about our boiler services or heating and plumbing work in Kensington, please ring now on 020 7222 1121 or email info@warmerspaces.co.uk