Bathrooms – Installations & Renovations
Are you looking for a bathroom specialist in London or Essex?
Our custom bathroom refurbishment services produce beautiful, practical and fully functional spaces ideal for your home and family's needs.
Our Bathroom Services
We offer a wide-range of bathroom services, including;
Custom Bathroom Designs & Installation

Product & Material Sourcing

Tiling, Plastering & Decorating
Bespoke Bathroom Refurbishment – Full Design & Installation
At Warmer Spaces, we provide a full range of high-end bathroom solutions, all tailored to your needs. Whether it's the traditional, old fashioned look with exposed plumbing you desire, or you're looking to completely modernise your spaces with minimalistic features, we have the knowledge and experience to provide you with the answer.
Your bathroom is your personal getaway, and here at Warmer Spaces, we focus on the fine details – from perfectly situated niches to underfloor heating, we can refurbish your space to create your perfect escape, but also make it welcoming to any visitor.
Family bathrooms, en-suites and cloakrooms, we provide custom designs to upgrade existing spaces or for a new build.
Are you unsure about how you would like your new bathroom to look? We can help you with the design and give you access to the best materials most suitable. We work closely with you to find out everything, from your favourite styles and the intended use for the space, to some of your must-have features and that all-important budget.
We design bathrooms with careful consideration, maximising the space on offer, taking into consideration storage, plumbing, lighting, fixtures and fittings, as well as all those little details which are going to create the ideal space for you.
Take a look at our gallery of work to see some of our bathroom spaces we have transformed for our clients.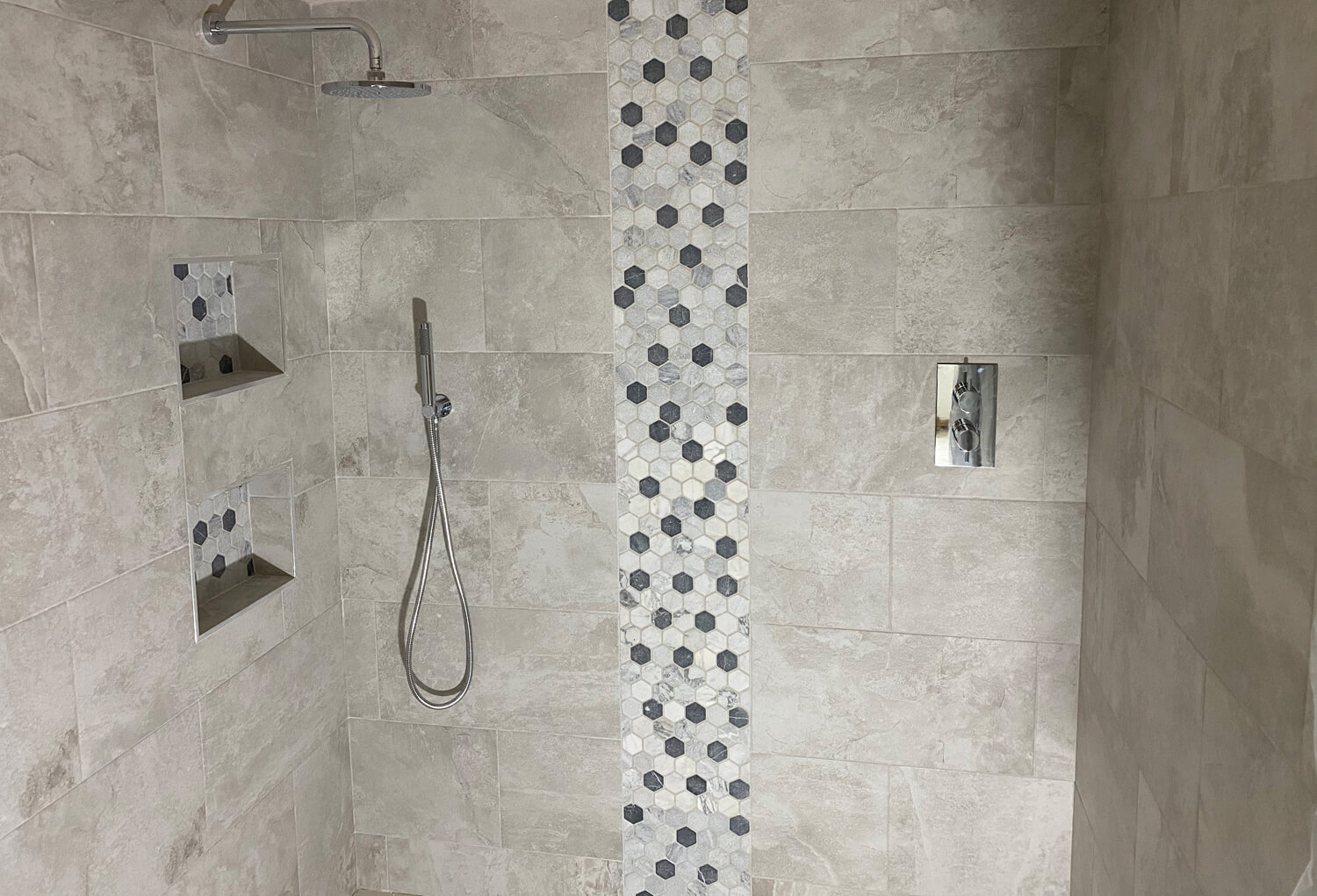 Project Management
One of the things which can hold homeowners back from completing bathroom refurbishments is the hassle of organising the different tradesmen and suppliers involved. As part of our home refurbishment management services, we do this for you, taking the stress away.
We bring together every trade required, covering electrics, tiling, plastering, decorating, heating and even specialist mastic work. Our experts will manage your refurbishment from start to finish, ensuring the process is as seamless as it can be.
Start Your Project Today
If you'd like to speak to our team about any bathroom services you require, please don't hesitate to get in touch. We're happy to perform site visits, provide quotes and tailor every part of our solutions to your exacting requirements. Contact us now to chat through your ideas.